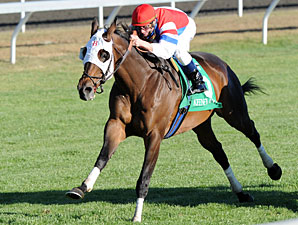 We here at Superfecta HQ have long been fans of Brass Hat – and that's not something you can say about many racehorses these days.  His first mention on this site came in June 2006, in the wake of his still-irksome DQ from his gutsy second place finish in the Dubai World Cup.  (In what perhaps hammers home the point about short racing careers a little too emphatically, the horse who won that year, Electrocutionist, was dead by the end of that year).  It may put it in more pleasing perspective to note that now-retired Rachel Alexandra was born the January before Brass Hat went to Dubai – and Zenyatta would not make her career debut until the end of the following year. By that point, Brass Hat had already set a track record at Gulfstream Park in winning the Donn Handicap, as well as another at Churchill Downs.
To see Brass Hat return to the track victorious at the age of 9, as he did in the Sycamore, was nothing short of tremendous.  It's true the gelding is something of a medical miracle, and that his career would likely not have been possible under a zero-tolerance medication standard, but it is also a testament to his connections' patience and willingness to allow their horse time to rest, recuperate and finally to come back to the races.  The father-and-son team responsible for breeding and training the horse, Fred and Buff Bradley, should also be commended for not giving up in the face of a few losses – his efforts earlier in the year have all been solid, and his return to the winner's circle was greeted by a well-deserved standing ovation.
Given the fact that Brass Hat has wins on just about every surface going, it's almost a shame this win comes so close to the Breeders' Cup – he'd have a perfectly sporting chance in the Marathon.
Maybe next year.