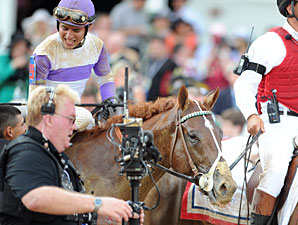 As is not infrequently the case, the 3-year-old picture has been thrown into a bit of disarray after the Derby, and like a lot of fans, this year's installment is one that's left me with mixed feelings.  I'm glad I cashed my across-the-board bet on I'll Have Another, but it would have felt a bit more rewarding (albeit not remuneratively so) to do the same with one of my numerous Union Rags-based exactas.  That said, I really like I'll Have Another's pedigree – I was a fan of his sire, Flower Alley – and I love that the stalwart Lava Man serves as his stable pony.  I cannot say I'm thrilled by the off-track record of his trainer, Doug O'Neill, however; it's always more pleasant to see one of the 'good guys' win, as opposed to those with a long string of drug violations (and the irksome would-be hipster hat didn't do him any favors).
But leaving most of the human baggage aside, we had a truly thrilling horse race to enjoy.  I never expected Bodemeister to show such speed for so long – I fully expected he would run out of steam after an early speed duel with Trinniberg and/or Hansen (a horse I'd never have bet had I gotten a good look at his condition in the post parade, but my television coverage was not ideal).  My thought was that he was flash some brilliant speed and fade to fourth for fifth, then come back fitter later in the year, but he certainly showed he's a truly impressive talent – imagine what he could do if he could rate! The Preakness looks like his perfect race, but he's still a maturing horse; still, I'm very excited to see more of him in the future.  The other close finishers, Dullahan and Went the Day Well, were also very impressive.  Went the Day Well put in a fine performance (this time, one I thought we might see), but I did not anticipate Dullahan having his half-brother's aptitude for the Churchill Downs dirt.  Both horses have already shown great versatility, and they should also have interesting trajectories this year – Went the Day Well, in particular, looks like he will love the Belmont.
Poor Union Rags just can't seem to overcome the bad racing luck he's been running into (literally) lately.  I'm a fan of Julien Leparoux, but perhaps he just isn't the right fit for the horse, and I'd be very pleased to see a local jockey on a local horse – Rosie Napravnik for the Preakness, anyone?  Hopefully he'll soon return to the form we know he can achieve. The real puzzler for me was Hansen – he clearly did not enjoy anything about his Derby experience, but was it just an off day or something more?   Gemologist simply did not fire either.
But back to the I'll Have Another, who suffers a bit on two counts: he doesn't have a feel-good human backstory that excites media interest (though surely his young jockey coming from almost nowhere to win America's most well-known race counts for something), and he's not as visually-impressive as a horse like Union Rags; his previous wins this year (including the Santa Anita Derby) have been nearly overlooked (though I can at least feel cheerful about having listed – and used – him as my longshot).  But he does have Lava Man in his corner, and he's the Derby champion – let's see how things go in Baltimore.  I'll be following him (and Lava Man) on Twitter, in any case!