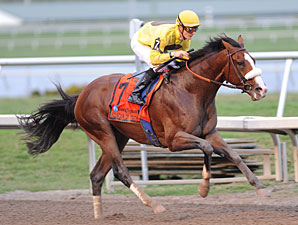 Apologies for the radio silence of late; I've been busy with the day job and writing and coding for other outlets that actually pay me, but with Triple Crown buildup in full swing, I'm back in action.
I'm excited that we have another horse with local connections to follow in Union Rags, and I was happy to help out the good people of TrackPack PA with some (hopefully cogent) thoughts on the colt and his appeal around these parts. Check out the trailer to the resulting documentary, and come back later in the week for the full film.
In the meantime, I'm always online as @superfecta – follow along! Here's hoping we can all look forward to some amazing Jamie Wyeth prints of Union Rags as his career progresses.