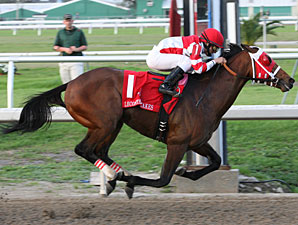 There's local interest in this weekend's Derby preps (and yes, we're officially at that point where just about any race for 3-year-olds can be called a Derby prep) thanks to a horse owned by Rick Porter and trained by Tony Dutrow (aka 'the Dutrow we like').  Winslow Homer is running in the Holy Bull at Gulfstream on Saturday, although Dutrow suggests that the one-mile distance will be a little short for him; he told Dick Jerardi:
"The Holy Bull is not a big deal for me, Mr. Porter or Winslow Homer," Dutrow said. "A one-turn mile is not what Homer wants."
The goal, he is saying, is much bigger than tomorrow. Dutrow feels confident the colt will excel at two-turn racing.
"He is going to come back in the Fountain of Youth at a mile-and-an-eighth in his next start regardless of how he runs in the Holy Bull," Dutrow said.
While I'm not enthralled with the top half of the horse's pedigree (he's by Unbridled's Song), I like that he's out of a Summer Squall mare, and I'm always in favor of naming horses after landscape painters.  However, he will have plenty to deal with in the form of likely favorite Jackson Bend, who picks up the services of Jeremy Rose.  Jackson Bend was thoroughly professional as a 2-year-old, winning all but one of his six starts.  What remains to be seen is whether his fine form at Calder translates to Gulfstream – and whether he's still 'hot' as a 3-year-old.  Rick Dutrow also has a horse in the race, the Maryland-bred Homeboykris; Todd Pletcher (currently suspended in California, but that's an entire coast away) trainee Aikenite has also shown talent.
With son of Azeri/A.P. Indy Take Control off the Derby trail (yes, already), those looking for a new horse to back may want to keep an eye on the LeComte at the Fair Grounds.  It does not have quite the talent profile of the Holy Bull, but there are a few horses who could demonstrate they deserve a shot at the next level.   Maximus Ruler and Turf Melody are those mostly likely to succeed.
But it will also be a weekend of comebacks – Friesan Fire (pictured) is looking to return to the winner's circle in the Louisiana Handicap, and so is General Quarters.  Both had disappointing races in December, but for each horse, it was the first time back after layoffs for injuries.  For Friesan Fire, it will be his second time facing Good and Lucky, who beat him last time out; whether that was, indeed, luck, may be demonstrated on Saturday.
There's also a Breeders' Cup champion in action this weekend – inaugural Marathon winner Muhannak is attempting to rebound from a terrible year last year in the rescheduled San Marcos at Santa Anita. Coming off a more promising year is Loup Breton; he's an Irish-bred who has faced some serious competition in Europe with varying degrees of success.  His first start in the US late last year was a close second to Proudinsky in the San Gabriel (the somewhat infamous race in which Lava Man finished last).  Also worth keeping an eye on is Zappa, although he's also been very inconsistent of late – he finished last in his most recent start, back in August – but perhaps the light has gone back on.  He did beat Well Armed two years ago, so there's talent in there somewhere.  Of course, the weather will need to improve…