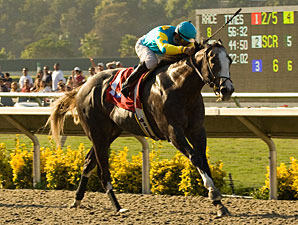 #, Horse, Trainer, Jockey, ML odds
1 Zensational, Bob Baffert, V. Espinoza, 7/5
Likely the fastest horse in training (pictured); will the post position hurt?
2 Cost of Freedom, John Sadler, T. Baze, 20-1
Won the Ancient Title here…last year.
3 Fatal Bullet, Reade Baker, E. Da Silva, 9/2
Speedy 4-year-old loves synthetics; second in this race last year.
4 Crown of Thorns, Richard E. Mandella, R. Bejarano, 12-1
Seems to be improving after a long layoff, but probably not ready for this company.
5 Gayego, Saeed Bin Suroor, G. Gomez, 5/2
Ex-Derby candidate successfully reborn as a sprinter; can he keep up with Zensational?
6 Dancing in Silks, Carla Gaines, J. Rosario, 12-1
Step up in class for improving gelding.
7 Join in the Dance, Todd A. Pletcher, J. Velazquez, 30-1
Has yet to win a race.
8 Capt. Candyman Can, Ian Wilkes, J. Castellano, 15-1
3-year-old has thrived at sprinting distances.
9 Fleeting Spirit (IRE), Jeremy Noseda, L. Dettori, 8-1
Always competitive with the world's best turf sprinters; classy mare could pick up the pieces.
Picks: Zensational, Fleeting Spirit, Fatal Bullet, Capt. Candyman Can