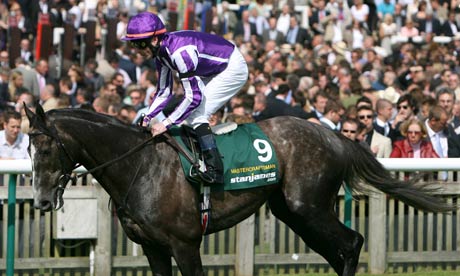 #, Horse, Trainer, Jockey, ML odds
1 Mastercraftsman (IRE), Aiden P. O'Brien, J. Murtagh, 6/5
Class of the field, no question (pictured).
2 Furthest Land, Michael J. Maker, J. Leparoux, 20-1
Won Kentucky Cup Classic last time, but he's not beaten much.
3 Midshipman, Saeed Bin Suroor, G. Gomez, 6-1
Only blemish is a second in last year's Norfolk Stakes; second start off a long layoff.
4 Bullsbay, H. Graham Motion, J. Rose, 3-1
His third behind Rachel Alexandra in the Woodward is closer than most horses can claim to have come.
5 Neko Bay, John Shirreffs, M. Smith, 20-1
Always first or second at Santa Anita, but against lesser opponents.
6 Mambo Meister, Philip A. Gleaves, M. Cruz, 30-1
Has a win last time out; seems more of a G3 performer.
7 Pyro, Saeed Bin Suroor, J. Velazquez, 10-1
Didn't do much in this race last year, but has done well since returning to the races late this summer.
8 Mr. Sidney, William Mott, K. Desormeaux, 12-1
Well-bred underachiever could use a win, but has faced some quality competition.
9 Chocolate Candy, Jerry Hollendorfer, J. Rosario, 15-1
Has been earning his keep the hard way, but has more talent than that might indicate.
10 Ready's Echo, Todd Pletcher, C. Borel, 20-1
Remember how he dead-heated for third in the Belmont behind Da'Tara? No? Still winless.
Picks: Mastercraftsman, Bullsbay, Midshipman, Pyro; longshot: Chocolate Candy