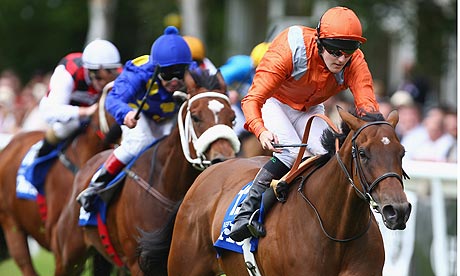 The Breeders' Cup defections continue apace; Icon Project has been retired with a tendon injury, Macho Again caught a cough, Gitano Hernando and Lahaleeb didn't want to pay entry feeds, Rail Trip has a foot bruise and Septimus isn't going to make the trip from Europe. With the retirement of Sea the Stars and the absence of Rachel Alexandra, things were starting to look a little thin this week for the big event – but there have been some interesting developments.
Kodiak Kowboy is going to contest the Sprint, which will now feature hard-knocking mare Fleeting Spirit (pictured) with Frankie Dettori aboard. Fleeting Spirit had been aimed at the Turf Sprint, given her aptitude against some of the world's best turf sprinters – clearly, the thinking is that her form will translate directly to the synthetic surface. Of course, it may just be a case of sharing the wealth – her stablemate, Strike the Deal, is down for the Turf Sprint. Capt. Candyman Can seems to be maturing nicely into this division, however – it would be no bad thing to see him represent for the 3-year-old American boys – if he likes the track.
But back to speedy European horses for the moment; Goldikova's rabbit, Only Green, has an entry – but she will be running in her own right in the Filly & Mare Sprint. Whether she can stack up to Sara Louise, Indian Blessing or Ventura in that race remains to be seen – it's shaping up to be one of the stronger races for North American-based horses. The same might be said of the Filly & Mare Turf – Diamondrella, Pure Clan, Rutherienne and Forever Together are a formidable bunch – although Midday, who has faced Sariska and who will have the services of Tom Queally (even though he's not staying on Fleeting Spirit), could well be ready for them.
The Irish contingent is looking very strong; Aiden O'Brien plans to send out Beethoven and Alfred Nobel in the Juvenile, with Viscount Nelson taking the Juvenile Turf option. Man of Iron, half-brother to Belmont winners Rags to Riches and Jazil, might be seen in the Marathon, now that Septimus has been ruled out. Naturally, Rip Van Winkle and Mastercraftsman are looking like the major stars for Ballydoyle as they work toward the Classic – but don't count out either Einstein or Zenyatta. Given the notable absences from the Classic, one hopes it's becoming more and more likely that's where Zenyatta will be entered; there's nothing for her to prove against anyone in the likely Filly & Mare Classic field.
There was some action in the Juvenile division; IEAH managed to come up with some cash that is not tied up in a lawsuit to purchase Radiohead. The Racing Post seems to find this a bit peculiar:

The deal, thought to be for in excess of $1 million, represents a calculated gamble on behalf of IEAH, as Radiohead has yet to race beyond 6f or on an artificial surface.

In addition to doubts about his stamina to see out the 1m½f trip of the Juvenile, his new owners will also need to fork out the bulk of a $100,000 entry fee because Radiohead was not Breeders' Cup registered as a foal.
On the plus side, the horse's name and new associations give ample opportunity for dropping in Radiohead titles and lines from songs (one wonders if they listened to 'We Suck Young Blood' before the purchase – presumably 'Karma Police' was not on the playlist) – but really, I'd prefer to see a winner's circle free of fake tans.
We will continue to round up Things Breeders' Cup-related next week, then we'll start getting serious about it, with a closer look at each race coming soon. We're nearly there – in the meantime, why not check out the DeFrancis Dash this weekend?