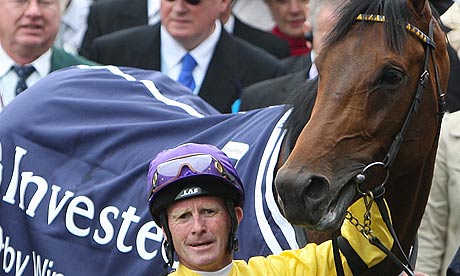 It's Super Saturday at Belmont and there are two days of spectacular racing at Longchamp, so let's get right to it. First up, the outstanding card at Belmont.
The Beldame is suffering somewhat from the absence of Icon Project (I don't think anyone ever seriously thought Zenyatta was going to fly to New York for the race), but while that leaves Music Note the overwhelming favorite, Captain's Lover and Unbridled Belle may still have something to say about it. Having seem Captain's Lover do well in the slop on Haskell day, I think it might be her day tomorrow.
The Vosburgh has drawn a small field, but the three standout entries should find each other good competition. Munnings is stepping out against his elders for the first time, and he is very well-placed to come home with a win. He's certainly got the speed for it, and his two-pound weight break won't do Fabulous Strike or Kodiak Kowboy, both very capable sprinters, any favors. Incidentally, a previously-unknown portrait of Munnings' namesake, equine artist Sir Alfred Munnings, has recently been discovered.
The Flower Bowl is an ideal spot for Dynaforce to repeat her victory in this race, but she should be pressed by Carribean Sunset and Pure Clan. If the predicted rains do come, that could shake things up a bit, but as with the Vosburgh, the top three in this race are so classy that it should not cause them much trouble.
The Joe Hirsch Turf Classic is an opportunity for Gio Ponti to extend his winning streak. It will be his first effort at a mile and a half, but he's won four G1 races in a row; if he were running primarily on dirt, he'd be getting a lot more well-deserved acclaim – which is perhaps the reason he is likely aiming for the Breeders' Cup Classic. However, this is no walkover – Presious Passion and Grand Couturier and both very dangerous, and I like Musketier and Ready's Echo as longshots.
And so to the big race – the Jockey Club Gold Cup. Summer Bird (pictured) is aiming to join Easy Goer as a Belmont-Travers-JCGC winner, and he has a great shot to do so – if he can get past Macho Again. It will be the first time these two members of the Second to Rachel Alexandra Club have met, but the weight break for 3-year-olds Summer Bird and Quality Road should give them both a bit of an edge. I'm still not convinced Quality Road wants to run this far, and the consistent but often-overlooked Dry Martini is a threat as well. Asiatic Boy will likely get a piece of the action as well, but I anticipate seeing Summer Bird and Macho Again battling it out at the wire.
And so to France – while Sea the Stars in the Arc is the big story, the entire weekend is packed with quality racing; we'll hit a few highlights.
Saturday's highlight has to be the Prix de la Foret, in which Goldikova is aiming for her seventh G1 win – and the best news is that if she continues her winning ways here and in the Breeders' Cup Mile, she may remain in training next year. It's hard to argue there's a better miler in training anywhere – and the fact that US fans will, if all goes well, get another chance to see a mare who continues to stamp herself as one of the greats is even better. Here's hoping for a win tomorrow – and another one at Santa Anita.
On Sunday's card, Fleeting Spirit is the star in the Prix de l'Abbaye; she was a bit unlucky last time out, but has been facing and often beating the world's best turf sprinters for the past two seasons. She faces a challenge from 2-year-old Monsieur Chevalier (yes, that's right – a 2-year-old against older horses) who has six wins already this year – although this is a step up in class for him.
While it takes place after the Arc, we should not forget the Prix du Cadran – it will be the final race for the great Yeats. If he goes out on a win, it would be his eighth G1 win – although he's already so loaded with laurels that simply a good effort would be enough of a reward for his many fans. Here's hoping he's equally popular at stud.
Finally, of course, there's the Prix de l'Arc de Triomphe itself – a chance for Sea the Stars to underline his much-discussed all-time-great status; indeed, a win on Sunday after a long season would be ample proof. But it's going to be no easy task; Vision d'Etat has been aiming for this race all year, Conduit (already beaten by Sea the Stars previously) may relish the distance, and fillies Dar Re Mi and Stacelita have their own scores to settle in the Arc. Fame and Glory will try to turn the tables on Sea the Stars – but it's more his race to lose than anyone else's to win at this point. He's essentially already had his coronation, so just getting to see another race while he's still at the top of his game should be excitement enough.
For those who like to complain that racing was better in the past, this weekend's lineup is an antidote – we're seeing three great European horses in Goldikova, Yeats and Sea the Stars, while Summer Bird seems to have taken a few steps in that direction; a win on Saturday would certainly advance his cause if he can keep winning this year – and next year as well. The future is equally open wide for Gio Ponti; a little recognition of his achievements would not go amiss.