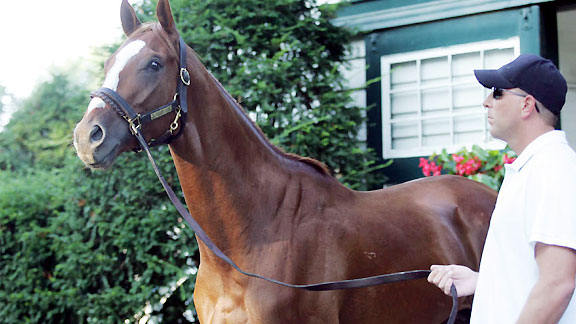 Travers weekend is upon us, and for once, we'll get some decent mainstream television coverage on ESPN – although the Ballston Spa won't be shown live, the other major stakes races on Saratoga's Saturday card will be. There's quite a bit to cover, so let's get to it.
Ballston Spa
This is a really interesting one – Rutherienne is taking on Cocoa Beach and My Princess Jess, as well as the interestingly-named Teamgeist – how can I not like a horse who shares a name with a soccer ball? Rutherienne was deeply unlucky last time out in the Diana (she was, in retrospect, probably the best horse in the race, but had to contend with traffic, wet ground and general unpleasantness) and she should be in a better spot here. However, Cocoa Beach will be tough for her to beat; I'm a fan of the Chilean-bred mare and like her versatility – dirt or turf, short or longer distance – nothing seems to faze her. Captain's Lover is taking a step up here, but I cashed a ticket on her last time out, so she warrants watching.
Ballerina
This year's Ballerina has a shorter field, but it's a talented one – Indian Blessing is looking to regain her good Saratoga form, but Informed Decision is red-hot at the moment and will likely be the deserving post-time favorite. Music Note is looking to make a return to the winner's circle as well, but I wonder if this race is a little too short for her – it's an interesting spot, in any case.
Kings Bishop
This race is another one that's packed with quality (and blazing speed); Munnings will be toting the highest weight, but it's a fine group of sprinters all around – Capt. Candyman Can is back to chase after Munnings, as is Big Drama, and Vineyard Haven has popped back up. Munnings should still be the overwhelming favorite, despite drawing the rail, and I'm a bit puzzled by Big Drama after the West Virginia Derby (although this race should set up more to his liking). I really like Capt. Candyman Can here – if Munnings is in any way compromised by his post position, I could see him picking up the pieces. Vineyard Haven is attempting a comeback as a sprinter after a long layoff – he will probably need a race.
Travers
You can listen again to my Travers ruminations, if you so desire, but here's the short version: I like Summer Bird. That's not to say I don't like the rest of the field – Richard Eng points out that six of the field of seven are coming off triple-digit Beyer performances in their last races – so it should be very competitive. I am lukewarm-to-chilly regarding Our Edge, Charitable Man and, to a lesser extent, Hold Me Back, but I see a lot to like in Quality Road, Kensei and Summer Bird. Warrior's Reward is my longshot pick – if either Quality Road or Kensei runs out of steam at the eighth pole, he may get a piece of the action. The classic distance is the real question mark for both Quality Road and Kensei – we know both are fast and talented, but it's not clear (yet) if either one really wants to run a mile and a quarter. Summer Bird obviously has no distance questions, and although he was a distant second-place finisher to the best horse currently in training in the Haskell, he should have a better shot on Saturday. If nothing else, it would be nice to see a Belmont winner come back and do well in other races – that's become something of a rarity in recent years.
Perhaps some good viewing figures this weekend will get the Woodward on national television – we can dream…