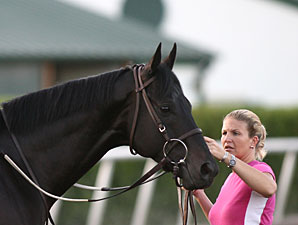 If you go by Google News, you may think the only races taking place this weekend are the Arlington Million and the Clement Hirsch – but there's a lot more going on beyond those two (and I think you'd be hard-pressed to support the notion that anyone beyond the usual suspects would be watching the Clement Hirsch if it did not involve Zenyatta).
Back in the day, people beyond hardcore racing fans used to care quite a bit about the Whitney as well and it's got an interesting field this year that should make it worthy of wider general appreciation. Commentator is back to try to win the race for the third time; whether the 8-year-old gelding has another one in the tank is the question. He's always flown slightly under the radar, which is a shame – he's been nothing if not consistent at the highest level, beating Saint Liam in the 2005 Whitney and earning last year's highest overall Beyer in his repeat victory. He seems equally comfortable going longer or shorter distances, he can run in the mud or on a fast track and he beats up on his fellow New York-breds like Rachel Alexandra does her agemates. He's got some competition, though, on Saturday – Macho Again and Dry Martini are both coming in off recent wins, and Smooth Air and Asiatic Boy are looking to overcome their perennial runner-up status. Of course, Commentator has been in this position before – he may simply turn on the afterburners and leave the rest behind.
Heading to Arlington Park (but before we get to the Big Race), we have the Secretariat Stakes and the Beverly D on the card. The Secretariat features Giant Oak and Take the Points as the larger American names, but there are a few European 3-year-olds who have made the trip as well. Chief among them is Black Bear Island, who was unlucky last time out, but he's been running with rather stellar competition and one assumes that Coolmore would not have summoned Johnny Murtagh for the ride if they weren't quite confident about his chances – even though the plan is for him to stay in North America going forward.
In the Beverly D, we see jockey Julien Leparoux reunited with favorite Pure Clan; the DRF notes that although she was swept up in the Great IEAH Horse-buying Spree of 2008, her breeder bought back the fraction he'd sold them later in the year – an interesting side note. She'll have to contend with Black Mamba and the improving Tizaqueena, plus a few more foreign invaders. The biggest Irish name is Mad About You, trained by Dermot Weld; the Independent ran an interesting feature on her groom, Jeff Byrne. It should be a good one.
And so to the Arlington Million – regular readers will know we're pulling for Einstein (pictured), especially after his troubled trip in this race last year. There's a feature article (again in the Independent) on trainer Helen Pitts-Blasi and what Einstein means to her barn (although it would have been nice if they'd run a picture of her actually aboard the horse in question, rather than a stablemate). His task is made harder by the inside post, with speedball Presious Passion to his outside. Gio Ponti will also be a very tough opponent and the international horses are no slouches – globetrotters Cima de Triomphe and Gloria de Campeao have both done exceptionally well throughout their careers. A good effort here from Einstein will likely send him to the Pacific Classic – which will be lacking the presence of Well Armed, who is back in the shop (as it were) with an ankle chip – but naturally we're hoping for a win.
There's another big, dark bay horse running this weekend, but she won't be facing anything near the caliber of competition mentioned above. It's always a pleasure to see the wonderful Zenyatta take the track, but it's becoming increasingly frustrating for fans to never see her challenged. The Clement Hirsch has a field of nice fillies and mares looking to take her on, but it's hard to give them any more enthusiastic accolades. As per usual, Zenyatta should sweep by them with little effort. While it certainly makes sense as an owner or trainer to place your horse where they have the greatest chance of success, one hopes this may act as a stepping stone to the Pacific Classic or something more ambitious; she's got the talent, let's see it on display. For all we know, she's getting bored with her current competition, too. While naturally I'd love to see her face off against Rachel Alexandra at some point, I'd be happy with a simple move toward tougher competition – Einstein and Zenyatta together in the Pacific Classic would make a fantastic photo opportunity.
We'll be going on hiatus next week while your faithful author heads to Austin, TX for some conferences – all food, beer and music suggestions for the area are most welcome! Expect normal business to resume on Monday, August 17th (although there will be the odd check-in via Twitter in the meantime).