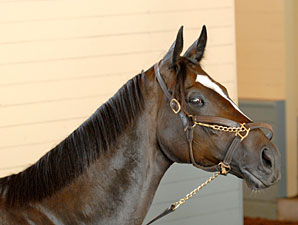 Much of the news this week seems to carry a bit of an international flavor; there is talk that Wesley Ward's successes at Royal Ascot will bring more American horses (especially sprinters – Cannonball narrowly missed out on winning the Golden Jubilee). The Guardian put his accomplishments rather quaintly:

A top-class Ascot success for an American-trained horse may now be just a matter of time. When it arrives, Cannonball and Wesley Ward, the Californian trainer who was as good as unknown seven days ago, will deserve some of the credit for showing the way.
Given the strong track record Australian horses already have in the sprints at Ascot, it seems the longer-term goal is to get more 'mile and middle-distance horses' from around the world to compete. Attracting American horses (at least from the West coast) might be easier now with Polytrack reigning supreme on California tracks – stepping up to a top-level turf mile with that foundation is certainly possible.
It's very unlikely you'd see an American horse step up to try to take the long-distance mantle from Yeats, however – while it's true we do have at least enough horses to fill the Breeders' Cup Dirt Marathon (we do, right?), we simply do not have much depth in the turf stayer division. But that's not to say we cannot enjoy Yeats – it's even possible he will contest the Arc this year (and seeing an eight-year-old stallion win the year after a three-year-old filly won and headed straight to the breeding shed would be a nice bookend). It's more likely he will point toward a race at Goodwood or the Curragh, but it's certainly an enticing possibility. (Vision d'Etat, winner of the Prince of Wales's Stakes, is definitely aiming for the Arc, after finishing fifth behind Zarkava last year).
The international trend continued with the announcement of more Win and You're In races for the Breeders' Cup (the full list is here); races at Sha Tin, Deauville, Longchamp, the Curragh, Leopardstown, Dundalk, Moonee Valley, Ascot and Newmarket are all part of the package now. I was pleased to see the effort made to reach out to the Aussie sprinters via the Moonee Valley race, but given the incompatibility of our racing calendars, it's unlikely we'd ever get to see them send their best to the Breeders' Cup. (As a side note, I'd also mention how few of these races are going to be normally televised – why isn't ESPN going to be at the Del Cap? I've always seen them there in years previous).
Heading back stateside, the racing world is very excited indeed about Rachel Alexandra headlining the Mother Goose at Belmont Park this weekend (naturally, I will be away at a conference and unable to attend – can I hold out hope for the Del Cap?). While I commend the decision taken by Jess Jackson to contribute a portion of Rachel Alexandra's winnings this season to charity, I do wish they would have picked one 1) that is less reliant on pink and 2) that actually sends a larger percentage of their donations to research. If awareness is the goal, it's all well and good, but if spending your research dollars wisely is the aim, the Breast Cancer Research Foundation is a better bet. Still, it's a nice gesture and I don't hate the idea of the bracelets (just the color), but there's still a long way to go toward decent official merchandise. I will take this CafePress offering over the rather anemic-looking HorseHats.com shirt any day (although I'd really like to see something more along these lines).
As far as the race itself, it's not much on paper beyond Rachel Alexandra and Justwhistledixie (although I quite like the idea of getting a really top-class filly in this race to renew some of its past glory – even if few others bothered making the trip), but I will most definitely be following along on my iPhone.
Of course, there's walkover action on the West coast too – Zenyatta (pictured) is taking on a few other runners in the Vanity, but she'll at least have the high weight of 129 pounds to make it a little more even. (Well, it still won't make it very even, but is should make things a bit more interesting for Life Is Sweet's presumed second-place finish). The fact that there is no unofficial Zenyatta merchandise suggests that perhaps her race is the one that needs a bit more marketing.
Imagine the possibilities if both horses were in the same race…
In the meantime, I'd invite you to visit our sponsors (left and right ads) for more – they are lovely organizations and we're happy to have their support. Cheers, guys!