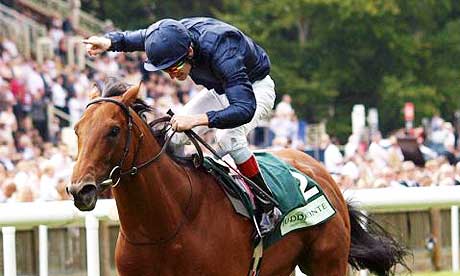 With the Travers and the Pacific Classic in the record books (and yes, there will be more on the Pacific Classic later this week), it's nearly time to turn our attention to the Woodward, which will feature a certain horse named Curlin. But before we look ahead to the weekend, let's examine the storm brewing across the pond over Ballydoyle's alleged employment of team tactics.
On the face of it, it would seem that the Aidan O'Brien-trained horses don't need to do much more beyond simply turning up – their most recent notable victory over the past weekend saw Duke of Marmalade (pictured) collect his fifth Group 1 victory of the year, equaling the records of earlier Ballydoyle stars (and current Coolmore stallions) Rock of Gibraltar and Giant's Causeway.
Yet some are concerned there is more at work here than simply the best horse winning; a number of times over the past few years, Team Ballydoyle has been accused playing the game rather less than fairly. The British racing rules define the infraction as follows:

Rule 153 (iv) states that a rider shall not "make a manoeuvre in a race in the interests of another horse in common ownership or under common control or from the same stable or team, whether or not such a manoeuvre caused interference or caused his horse to fail to achieve its best possible placing".
Of course, whether or not it's the real thing (or whether the stewards catch it) is debatable; a charge of team tactics after a poor outcome for a Godolphin horse led to considerable bad feeling between Aidan O'Brien and jockey Frankie Dettori in 2006:

O'Brien is less likely to hanker after Dettori, however, after his childish complaints about "team tactics" at Ascot on Saturday. The Italian goaded the stewards into a 14-day suspension for Seamus Heffernan, who rode another Ballydoyle colt in George Washington's race.
The Guardian has been bringing the issue up all summer; first, taking the view that the multiple Ballydoyle entries in major races may lead to suspicion, even if there's nothing particularly nefarious afoot:

Pacemakers are good for top-class racing, particularly when it comes to preserving stamina in the breed. They help to ensure that 12-furlong races are won by proper 12-furlong horses.

But does anyone need three or four? O'Brien leaves nothing to chance, which is one reason why he has achieved so much. This, though, may be one of those times when you can have too much of a good thing.
Duke of Marmalade's International Stakes win brought the topic back up to the surface, with Lydia Hislop arguing that the use of team tactics was precisely what was going on:
So why was that rule not applied to the moment when Colm O'Donoghue, the rider on pace-setting Red Rock Canyon, eased away from the rail to leave a Duke Of Marmalade-sized hole up his inside? It was a gap Johnny Murtagh immediately asked that horse to fill, as the shortest route to a fifth consecutive Group One win.

O'Donoghue's driving instructor may have watched the race with some satisfaction: it was copybook execution of Mirror, Signal, Manoeuvre. Nearing the half-mile pole, he looked over his left shoulder. Clearly, for his purposes, it was safe to go but, like a careful driver, he also checked over his right once the manoeuvre was complete.

Had O'Brien and O'Donoghue been summoned to account by the stewards, they might have argued that Red Rock Canyon peeled off the rail due to hanging under pressure, rather than by the will of his jockey, who was looking around to try to avoid hampering others as his horse weakened.

…

Yet leaving an inquiry uncalled and allowing the reverberations to echo freely may turn out best – by chance – for the British Horseracing Authority. For Murtagh has since been quoted ascribing clear intent to O'Donoghue's actions. "I was always going to follow Colm," he said. "I didn't want to start worrying about other horses. I just wanted to worry about myself and Colm and I said to him, 'when you get to the four marker, just ease off and give me the passage through'. It's what Ballydoyle's all about."

This provides the BHA with an opportunity to advise Team O'Brien that such tactics breach the rules of racing. Given that Saturday's manoeuvre merely ceded an advantage to Duke Of Marmalade, rather than materially improving his finishing position – Phoenix Tower had every chance, once chiselled out of his Ballydoyle coffin – O'Brien can expect a private letter rather than a retrospective inquiry.
So it sounds as though the matter will rumble on, fueled by equal parts jealousy and dodgy-looking finishes (and good luck proving what's going on in either direction) – but it will be intriguing to see if Henrythenavigator does indeed come to contest the Breeders' Cup Classic – and who else might be coupled with him.
One of America's most successful (and legit) rabbits, Shake the Bank, is running in a race all by his lonesome at Presque Isle on Thursday – here's hoping he's allowed to win, for once!