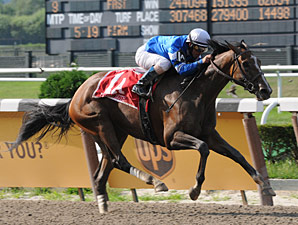 As Val so correctly notes, the Curlin–Big Brown war of words may continue on, but it should not overshadow the other remarkable horses in training right now; it's really a stellar group of fillies and mares currently on show.

The Alabama gives them a chance to show off their talents; Music Note (probably) meets up with Proud Spell again, but the whole field should be worth watching.

Proud Spell's trainer, Larry Jones, is hoping for a second shot at the A.P. Indy filly (pictured) after a messy Mother Goose:
Music Note has won four consecutive races. She stumbled, lost a shoe, and dislodged another shoe in the Mother Goose, but still had a better trip than did Proud Spell, who stumbled badly, was forced to steady turning for home, and then drifted out in the stretch while finishing second. Proud Spell was disqualified and placed third for bothering Never Retreat.
While I applaud Larry Jones for wanting to match his filly up with the best, I admit I'd still like to see Music Note in the Travers. And it does sound as though it is still a possibility:
"I think they're not opposed in general to it," said Godolphin's Rick Mettee, "you see it more in Europe because they're running on the grass and of course it's a lot easier on the grass where they're basically just in most of the races going along at a reasonable pace and just a sprint home. But there are some circumstances surrounding this that makes this, obviously it's the Travers, it's a $1 million, it's a classic race, but you know one of the circumstances would be we have Little Belle for the race too"
It could be just the shot in the arm Godolphin is looking for this season after multiple disappointments in Europe.
The Sword Dancer just got a bit easier for everyone else – Red Rocks will be skipping the race with a sore ankle. This may give Champs Elysees the chance to grab that elusive G1 victory (although he'd have to do better than he did last time out). Perennial favorite Better Talk Now lines up as well and while he's probably cheering the absence of Red Rocks, it's still a tough field, with Presious [sic] Passion and Dancing Forever in the mix. Each time I overlook Grand Couturier he seems to fill out part of my ticket, so I'm curious to see how he looks tomorrow.
Much as I love Better Talk Now, I would also like to see Champs Elysees add to his dam's sparkling resume – we'll see!