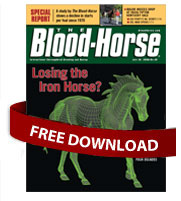 Before we sojourn up to Saratoga, let us first examine the Blood-Horse's special report, 'Losing the Iron Horse.' Finally, someone has actually taken the time to compile and examine statistics regarding stallions and the number of starts per offspring. It seems at first glance that the early 1990s is when things start to get really out of hand in terms of fewer and fewer starts, but the trend is there from the beginning of the data. However, the numbers only start at 1970 – it's a good beginning, but we're lacking useful historic data that could help to really identify where those trends begin (although I would bet they begin in the 19th century).
The statistics in this report only cover North American-bred horses and it would be a useful next step to compare to European and South American stallions and their offspring.
There are a few facts that pop out; first, the not-terribly-surprising ones:
Overall starts per foal dropped from 20.42 in the 1970s to 13.15 for the years 2000-2003.
Stallions with a stud fee over $100,000 have the lowest average number of starts per foal (but you knew that).
The number of starts for offspring of such stallions has decreased since the 1990s, but the trend was in line with the other price levels – they all dropped significantly between 1990 and 2003.
These were a little more interesting:
While the overall foal crop in this decade (so far) is down considerably from the 1970s (and less than half that of the 1980s and 1990s), the number of stallions has gone from a high of 2,834 in the 1980s to 925 now, which sounds like the makings of a genetic bottleneck. While the huge number in the 1980s and 1990s seems equally ill-advised, it would seem that there's a middle ground we may be missing.
Among sires of G1 winners for 1970-1979,

Northern Dancer

and

Mr. Prospector

foals were fairly middle-of-the-road in terms of numbers of starts for their category during that time;

Nijinsky II

,

Raise a Native

,

Sir Ivor

and

Vaguely Noble's

numbers were in the single digits.

Verbatim

was king in that era, with an average of almost 30 starts per foal. The big difference seemed to be in the percentage of graded stakes winners they sired.
However, things changed in the 1980s – even (or, perhaps, especially) for the big boys.

The Dancer

and

Mr. P

are both still very much on the 'sires of G1 stakes winners' list, but their number of starts per foal dropped considerably in that decade:

Northern Dancer's

foals started 11.71 times in the 1970s, but only 6.18 times in the decade of Duran Duran – and

Mr. Prospector

went from 18.10 starts to 10.58.
By the 1990s, sires of graded stakes winners (listed by total stakes winners) were rarely producing foals that started very often –

Storm Cat

,

Danzig

and

Broad Brush

were all producing stakes winners, but

Storm Cat

and

Danzig

progeny were in single digits for starts –

Broad Brush's

were a lot closer to 19 starts (although

Allen's Prospect

was averaging about 24 — and still producing graded stakes winners).
The main difference between the 1990s and the 2000s seems to be that not a single stallion from the 'Top sires of G1 stakes winners by graded stakes winners' has foals averaging twenty starts in the current decade — although perhaps someone will get there.
A few other random observations:
Whatever happened to the 'iron horse' producers of the 1970s –

Terrible Tiger

,

Spring Double

and

Ole Bob Bowers

? I'm presuming that

John Henry

skewed the stats for

Ole Bob

to a certain extent, but they certainly look (at first glance) smaller and more well made than today's model (have a Google around for some images) — and they were certainly not the most popular sires by any means.
Why on earth did

Woodman

produce so very many foals? (He had 458 2 year old starters in the 1990s). At least they did tend to have longer careers, but that's still a

lot

of

Woodman

. Ditto for

Pentelicus

– no G1 winners, but a lot of winners (a fair few G2 and G3 ones on the list) and a good number of starts.

Miswaki

was also on the 'very busy' list.
There are many stallions on the books with no stakes winners of any kind – although a fair few of them do produce winners (albeit winners of not even the most minor of stakes races). Some do work their way up, however –

Jules

had no graded stakes winners in the 1990s with only 40 named foals, but in the 2000s he spikes up to 155 named foals. He still had more 'winners' than 'graded stakes winners' (as you might expect) but clearly he moved up in the world.
In the 2000s (thus far),

Storm Cat

offspring drop to 7.73 starts, making

A.P. Indy

foals look remarkable at 10.15 starts. Among the elite,

Pioneering

and

Langfuhr

are still closer to old school numbers with around 17 starts;

Not For Love

,

Distorted Humor

,

Smart Strike

and

Stormy Atlantic

aren't far from 15 starts.
So, what does it all mean? At first glance, it brings up more questions than it answers — what about the mares? What about shuttle stallions (although it's likely too early to say much)? Do turf runners tend to start more than dirt runners? Have racing patterns changed due to breeding, or vice versa?
The answers are not there yet, but it's definitely something to start mulling over…