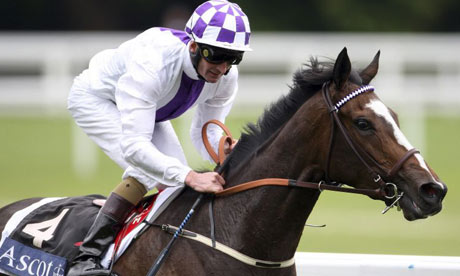 Apparently a change in distance is no problem for Jim Bolger's Lush Lashes — although her last race was over a mile and a half (and not a particularly successful effort for her), she easily cut back to the mile distance of the Coronation Stakes. As he was for New Approach in the Derby, Kevin Manning (who is the trainer's son-in-law) was the jockey in this case as well. Lush Lashes will probably stretch out again to the mile and a half distance for the Irish Oaks next time out. The favorite, Spacious, was never a factor, Infallible finished in what can only be described as an ironic second, and third-place finisher Carribean Sunset may aim for the American Oaks next.
In other Royal Ascot races today, Frankie Dettori finally got a win (the first for Godolphin for the meet) aboard Campanologist in the King Edward VII stakes and Patkai picked up the Queen's Vase.
Saturday's Golden Jubilee Stakes should be quite an event; Sakhee's Secret is currently the favorite, but the Antipodean contingent is strong, with Takeover Target definitely in the picture as is Kiwi-trained mare Seachange. War Artist is Australian-bred, South-African-owned and British-trained, so a victory by the improving gelding would be quite an international event.
But let us focus on Seachange for a moment; she will be sent off at very attractive odds, despite having seven Group 1 victories. And there's a reason why she is the first New Zealand-trained horse to start at Royal Ascot:
"Our stake money is amazing back home and we have half a dozen races worth over a million dollars [about £385,000] each year.

"British racing is marvellous but it's a prestige sport – there's no money in it. That would be a big concern for me."
The Golden Jubilee purse is £375,000 (not quite US$750,000, given the current crappy exchange rate), and so while it is nothing to avoid, it's a long way from New Zealand to England when better prize money is available there. She performed well in Dubai, though, and I am looking forward to seeing the well-travelled mare.
If I had to pick a random longshot, I would go with Snaefell (and not only because I love his name — I'm not sure whether they intended it to be Snaefell, after the mountain on the Isle of Man or Snæfell after the Icelandic volcano), but because he seems to enjoy a wet course and will only be carrying 110 pounds).
In any case, the 20-horse field should make things interesting…