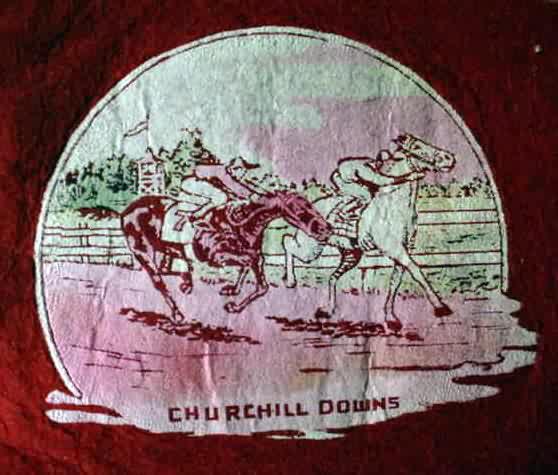 The lull between final Derby preps and the post position draw is an ideal time to reflect on Derby history; specifically, in this instance, how the apparently-now-compulsory 20-horse field came to be.
The first Kentucky Derby, in 1875, had 15 entrants (including Ten Broeck, of "Molly and Tenbrooks" fame, who finished 5th behind Aristides), but the fields seemed to shrink for some years after that. The 1890s, in particular, were the era of tiny Derby fields: 1891 had 4 entrants (and was the slowest on record), while 1892 had only 3 starters. The trend continued into the 20th century – 1905 was another 3-horse field.
Regret's Derby, in 1915, was the first large field in years – 16 horses, but it was back to 9 the following year (and, as an aside, one wonders if the Jockey Club would still allow a horse to be named 'The Cock' — like the 6th place finisher in the 1916 Derby or 'Stepenfetchit,' third in the 1932 Derby).
1923 saw a 21-horse field, and 1928 and 1929 also went over 20 — however the intervening years had various field sizes, from approaching 20 to only 13. The next 20-horse field came in 1951, but was again followed by smaller fields. 1971 saw another 20-horse field, with smaller fields in between until 1974's 23-horse experiment in insanity. Despite that bumper year, the 20-horse limit did not come into use until 10 years later (which might be unkindly interpreted as a comparatively speedy response for the sport's governing figures).
The field stayed under 20 until 1981 again saw 21, with the early '80s hovering around that 20-horse mark. 1985 was again a low year, however, with only 13 (and it was loaded – Spend a Buck winning, but Chief's Crown, Skywalker and the ill-fated Tank's Prospect were all in the mix). Field sizes varied considerably in the 1990s — in fact, we don't get back to the 20-horse field until 2005 – and then 2006, and 2007.

Funny how something can become a tradition in just four short years.