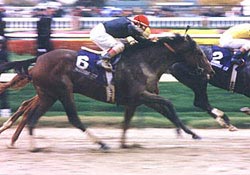 You may have noticed the new box on the right proclaiming 'Take Back The Race' and wondered precisely what that meant. Well, in conjunction with some of my fellow (mostly female) TBA members (check Green But Game for more details), we've suggested some alternatives to the plans announced by the Breeders' Cup.
Many of us have detailed our ideas for improving on the two-day setup without minimizing the impact of the Distaff. We're not annoyed about change in and of itself — indeed, we have been advocating it for some time. Catering to new fans is a fine goal, but cutting out existing fans and diluting the product is not a sensible way to achieve that.
As a small aside regarding the aim of bringing new fans to the Breeders' Cup, what are the odds that one of these 'new' fans is going to take a day off work to attend a track on a day when admission skyrockets? As a lifelong fan, with a job and small child, taking a day off work and day care to go to the track (at an astronomically high cost, compared to any other day at the track) is hardly a feasible option for me, and I cannot imagine it would be a priority for the casual fan either.
But let's get back to basics — the name change is terrible and there are ways to make positive changes to the structure of the Breeders' Cup event that are more fan-friendly, less sexist and more respectful of champions like Personal Ensign and Winning Colors (and good luck finding an argument for a better race in the history of the Breeders' Cup than the 1988 Distaff). You can see our suggestions and get involved here.