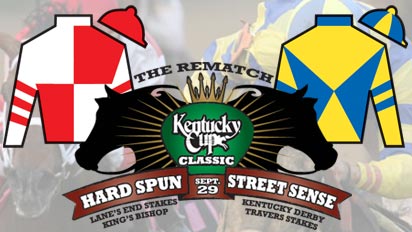 It's quite a weekend; Hard Spun and Street Sense face off in Kentucky, while Curlin takes on Lawyer Ron in the Jockey Club Gold Cup. Turfway Park did well to ensure that the heavy hitters turned up for the Kentucky Cup Classic — there's a $150,000 bonus on the line for horses who have won a Grade I in 2006 or 2007. While we know Hard Spun likes Polytrack, we have yet to see Street Sense pick up a victory over the surface, although in all likelihood he's here just to prep — a win would be a bonus. I still believe Hard Spun's best distance is a mile, but there's no real reason they should not finish 1-2 — and this time Hard Spun has the rail (and is really the only speed in the race). There are a few Polytrack specialists thrown in for good measure, though — that is, I'm presuming the Biancone-trained Stream Cat does not require cobra venom to be at his best on the surface.
While Curlin and Lawyer Ron are the obvious draws in the JCGC, I also like Sun King; he always seems to have potential but does not quite live up to it. I still think he's a solid horse and could easily hit the board (and given that some may be tempted to use the race as 'just a prep' you never know what might happen). Political Force may have disappointed recently, but he's still one to watch as well. I don't see Curlin beating his elders at this point, but he should put in a good effort. I'm picking Lawyer Ron to win, but Sun King is in there as my longshot.
Discreet Cat has certainly been under the radar since his disappointing effort in the Dubai World Cup, but he returns this weekend in the Vosburgh. He's back at a distance he seems to relish and it will be interesting to see if he does bounce back well from his six month layoff. I like Teuflesberg at this distance too, but I'm a little concerned about his recent spate of entries and scratches; rumors swirl that all is not well in the Teuflesberg camp, but I hope they are just rumors.
Possibly being overlooked with everything else going on is the Flower Bowl — it's got a great field featuring Wait a While, My Typhoon and the interesting Argentina; I also like Rosinka and Royal Highness. It should be a very exciting finish and any one of these talented fillies and mares could emerge victorious. The Filly & Mare Turf division is overflowing with talent, and it will only become more exciting when the main European contingent ships in for the Breeders' Cup.
Finally, after a great weekend of racing, you might make your way to your local quality beer establishment in time for the National Toast to Michael Jackson at 9 pm ET on Sunday. (Locations confirmed to be joining in the memorial are listed here). Raise a glass to the great man and make a donation to the National Parkinson's Foundation. If you've been saving a JW Lees Harvest Ale (the late '90s vintages are particularly tasty), now's the time to break it out.