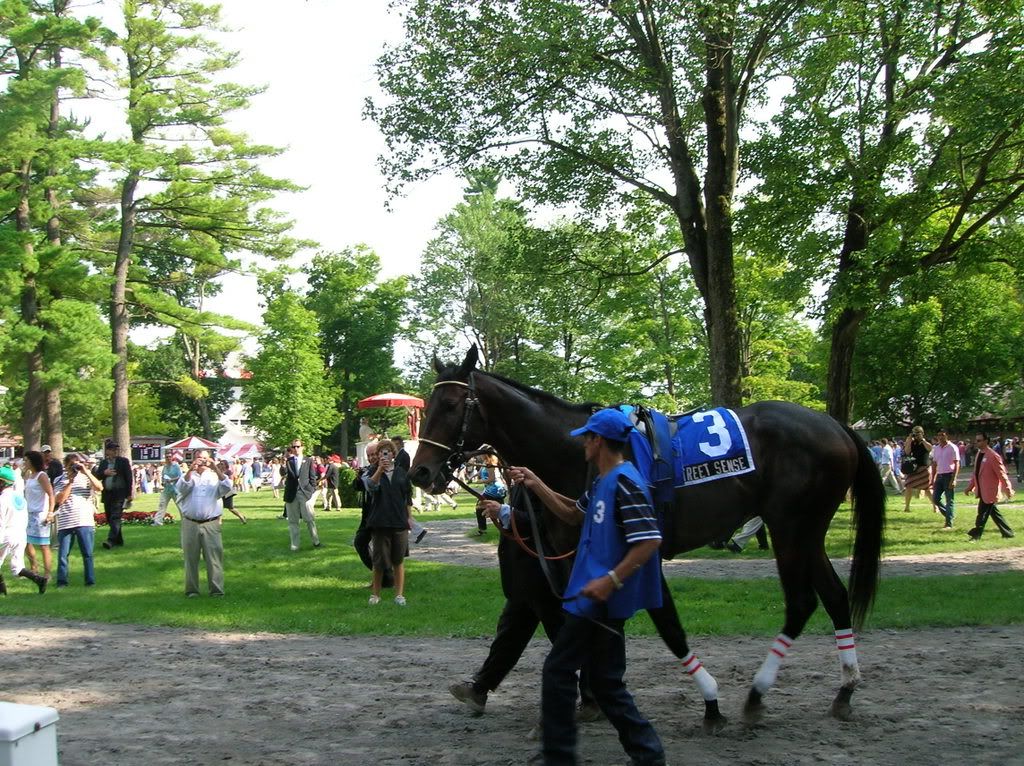 Here are a few more snippets from Our Woman in Saratoga (as well as her lovely photo of Street Sense before the Jim Dandy):
Two upstate news sources (Albany Times-Union and The Saratogian) quote trainer Pat Kelly as saying that 9-year-old grey gelding Evening Attire will run in an allowance race later in the meet. He's had good success here and will be a crowd favorite.

and her take on the Whitney:
I have never been a big Lawyer Ron fan and have been present at his last two races (Met Mile at Belmont in May and Salvatore Mile at Monmouth in June). The former was a mediocre at best effort (though he did finish third), but he closed well at Monmouth and I thought the extra distance today would serve him well. My third horse was an admitted outsider and longshot, Awesome Twist. I had it right with Lawyer Ron, but my other two finished last and next to last, and unfortunately, my win bet was with Sun King, not with Lawyer Ron, who ran a mighty impressive race (setting a track and stakes record) and changed my thinking about him. I still can't believe that Wanderin Boy set that pace and hung in for second, but at least my man Nick Zito got a big check today, albeit for yet another second in a Grade I.
Not everyone is awed by the 'Win and You're In' program — Bobby Frankel pulled no punches when speaking to the Times Union about Ginger Punch's Breeders' Cup Distaff berth:
"It's bull(expletive)," Frankel said. "Who is not going to get in if they can run a little bit? I could see if you win and they (Breeders' Cup) are going to pay your way in or if there were 400 horses trying to get into each race."
and he continued on:
"No one gives a (expletive)," Frankel said. "Definitely not. What is the big deal? Odds are that a horse that wins is not going to get to the race anyway. People win a race in February now and you hear them say they are going to get ready for the Breeders' Cup. I don't even worry about the Breeders' Cup anymore. If they are there at the right time, fine, if you know what I mean."
Tell us how you really feel, Bobby!
Update: Rags to Riches is back in training.