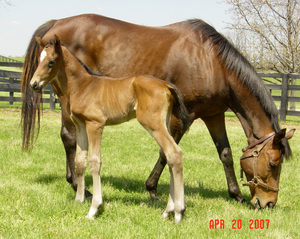 Note: Superfecta is guest-blogging over at Tim Woolley Racing for a few days and will be publishing her updates in both places.
Superfecta here, deputizing for Alex; naturally much of the news this morning is on Barbaro's newest full sibling, born yesterday morning at Mill Ridge Farm. There's a picture of the new colt here and some more detail about La Ville Rouge's other foals here. I'll add more links throughout the weekend as they appear.
In the 'litigation – it's not just for 3-year-olds' category we have an appearance by Lawyer Ron, whose owners are arguing over his racing career. As of now, he's being pointed toward the Metropolitan Mile, but his next move could well be decided by the courts. It's clearly a busy season in Kentucky legal circles.
Things are not so rosy for Godolphin either; Ashkal Way has a tendon injury and it sounds as though he might return to training in the future, but it's equally possible that he might head toward retirement. Discreet Cat is also delaying his return to the races (and to the US), but the indication (so far) is that he will re-appear later this year. His absence will no doubt make the Met Mile more attractive for Lawyer Ron…if he's allowed to race!
For today's Coolmore Lexington, we're told to 'look for quicker pace than Blue Grass' — I'm awarding them my Understatement of the Month award in advance. I still like the Lasix-free Belgravia.