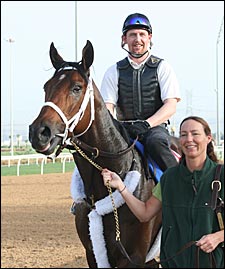 There's plenty of British and Irish coverage of the Dubai World Cup (and I can fully appreciate that English sportswriters are looking for something to cover besides England's wildly lackluster win over Andorra (Andorra!) in Euro 2008 qualifying following so rapidly on the heels of their draw with Israel) — it would be nice if we had as much in the US mainstream media.
In a rare show of agreement (albeit with a modified vocabulary), the Guardian and the Mirror both seem to be backing Invasor while the Belfast Telegraph and Setanta both go for Discreet Cat.
Lest we think it's a two-horse race, there are some fantastic odds on everyone else and some fair ones on Premium Tap who seems to be flying under the radar. I'll go on record as picking Invasor.
Lava Man's trip to compete in the Dubai Duty Free has not gone unnoticed by the foreign press either — by all accounts, he looks like he's happy to be there. I'd love to see a one-two finish for Lava Man and Miesque's Approval. Trainer Doug O'Neill stayed stateside to look after his Derby hopefuls, including Notional who runs in the Florida Derby this Saturday. (In said race, I also like Chelokee, who seems to be improving, and Stormello — I know Scat Daddy is good but he's never grabbed me for some reason).
Finally, my complete picks for Dubai World Cup day:
Godolphin Mile:
I'll pick Vortex.
UAE Derby
I'd love to see Folk do well, as per my usual filly-takes-on-the-boys bias, but Asiatic Boy is looking good too. I'll take a pass on Day Pass.
Dubai Golden Shaheen
Is Bishop Court Hill due? How about Harvard Avenue or Nightmare Affair? I may just stick with Thor's Echo.
Dubai Sheema Classic
Collier Hill should hit the board — I like the old guy. But I love Honey Ryder — and no grey or mare has ever run the race, so I think it's time.
Dubai Duty Free
Go Lava Man!
Dubai World Cup
Invasor…he is, after all, the best.