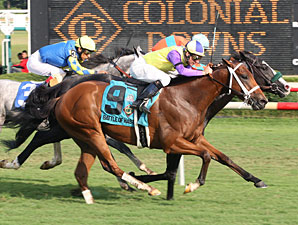 Perhaps the most interesting result from last weekend's racing is that the Grand Slam of Grass is still a possibility, thanks to Battle of Hasting's win (pictured) in the Virginia Derby. As mentioned last week, the Grand Slam of Grass seems to be unfamiliar even in the racing world (indeed, it was news to the winning horse's connections prior to the race) – this week, Green but Game examines its previous history. There's little argument that an American 3-year-old is at a huge disadvantage against seasoned European professionals when it comes to the Breeders' Cup Turf, but it's still an interesting race series that could be better promoted.
Unbridled Belle was upset again at the Del Cap, but this time she had no legitimate excuses; she simply couldn't keep pace with Swift Temper and finished third in the race for the second year in a row. The Del Cap wasn't the only local Breeders' Cup Win and You're In race, however – Philadelphia Park also hosted the Greenwood Cup over the weekend. The ungraded 1 1/2 mile race is now a stepping stone to the Breeders' Cup Marathon – Brazilian-bred Alcomo took the race. Whether these geldings (well, OK, second-place finisher Alaazo is intact, as is Nite Light, but you get the general idea) want to run a bit further for the 1 3/4 mile Marathon remains to be seen – but I'm glad this category exists, even if it's a bit of a thin one at the moment.
Of course, most people seem to be skipping ahead to the first weekend in August, when Rachel Alexandra will take on Summer Bird and Munnings in the Haskell (and do check out Monmouth's Ultimate Rachel Alexandra Fan contest) – but let's not forget that the Coaching Club American Oaks is also coming up.
Check back later in the week for more – and if you're so inclined, feel free to drop by my latest creation for a virtual pint.