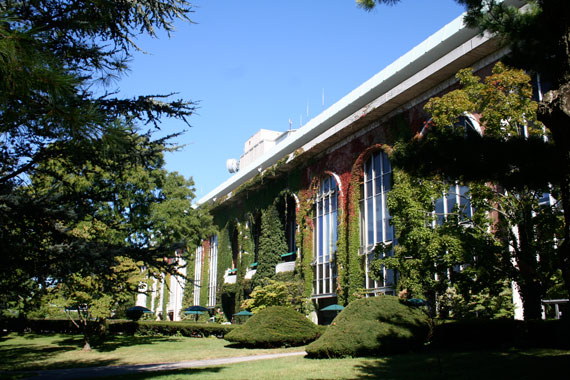 When there's a Triple Crown on the line, it's not just a normal Saturday at Belmont; it's a madhouse. Here's how to make it bearable:
1) Reserved seats. You've missed your chance to get them directly from NYRA by a few months at this point (the ticket lottery is great for hardcore fans, since it presumes you are coming no matter what and requires you to commit to buying your seats some months in advance, but it's probably not terribly welcoming for new or occasional fans). Of course, reserved seats are still out there, but they aren't cheap. The upside of reserved seats is that as the track becomes more and more crowded throughout the day, you can still wander off toward the windows, bathrooms and food.
2) Get there early. If you don't have reserved seats, take an early train (which will, itself, be crowded); your chances of getting a decent spot to actually see any of the races depend on this. Once you've secured a spot, you'll need to guard it jealously as the day wears on.
3) Expect weather. Belmont Park in the rain can be miserable (at least if you are intent on keeping your spot on the rail) and even on a warm day, cold winds can come in off the water. Wear sunscreen, layers and expect rain – no matter what the forecast says.
4) Bet early, bet often. In an ideal world, you'd have a chance to amble out to the paddock, see how the horses look and head back to the betting windows. That won't happen this Saturday. The crush of people attempting to get out to the paddock will grow with each race and the lines at the windows will be even worse the later it gets. Make your wagers for the last few races (including the feature) by 3:30 or else plan to miss a race. Good luck cashing those winning tickets…
5) Food. Yes, there is sushi at the track, but you know you don't really want racetrack sushi. Unfortunately racing has a long way to go toward catching up with baseball as far as offering decent junk food and good beer — simply put, you're not going to get it. The lines are long, the prices inflated and you'll still be wanting a decent meal when you finally get out. Pocket-sized snacks are your friends. You can bring coolers into certain parts of the track, but it depends where you come in and it's hardly worth the hassle since 1) you can't bring beer and 2) the lines for the bathroom are not pleasant.
6) Getting out. There will be a sudden mass exodus as soon as the winner hits the wire in the Belmont. Even if you sprint to the LIRR line or parking lot, expect a wait — a long one. Plan your visits to the bathroom accordingly beforehand. If you're taking the train, it's a lot nicer to get off at Atlantic Ave and repair to one of the many fine restaurants in Brooklyn – I recommend the Waterfront Ale House or the Brazen Head, where you can finally get one of the good beers you've been missing all day. You'll have been considerably enriched by your winnings for the day by that point (right?) and will have certainly earned it.