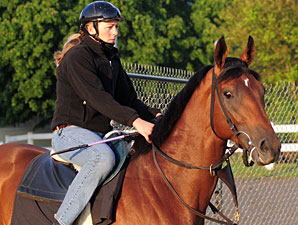 Today's first point of order is a welcome to new readers from TheRail – thank you for stopping by, it's lovely to have you visit. And so on to business. As in politics, a week is a long time in horse racing. Only two short months ago, The Blood-Horse ran this headline:
Unknowns Big Brown, Tomcito Set to Clash
Both horses worked over the Belmont track today, with the headliner Big Brown (left) putting in a mile and a half gallop and Tomcito (still day-to-day for the Belmont and so far without a jockey) a 7-furlong work. In only two more weeks it's entirely possible that one or both horses might be retired, whether by injury or by design, so it behooves the racing fan to pay close attention now.
Casino Drive had a peculiar workout (or non-workout, depending on your point of view – his connections did not seem concerned), and it seems that the jockey decision could be put off for yet another day.
Reporting from across the pond, The Guardian sees this year's Belmont as potentially historic for reasons beyond Big Brown:
This year, though, the Epsom Derby may still struggle in terms of its global audience and impact when set against events later the same day in New York. The Belmont Stakes, the final leg of the US Triple Crown, promises to mark not only the end of America's 30-year wait for a wearer of the crown but also the beginning of profound change in the country's racing industry.

Big Brown, who will be the 12th Triple Crown winner if he takes the Belmont, was reported to have a minor crack in a hoof over the weekend. His vet seems confident that this will have healed by Thursday, and at this stage his participation in the Belmont does not seem to be in doubt. Even if Big Brown fails to make it to post on June 7, however, the fallout from the 2008 Triple Crown series seems sure to continue for months, if not years, to come.

This is because the first two races in this year's series have already thrown light into dark corners of the American industry, and have done so at the precise – and, on an annual basis, only – moments when the country's sports fans were paying attention.

First, there was the death of Eight Belles after finishing second in the Kentucky Derby, prompting questions about the attrition rates on America's harsh dirt surfaces, and whether breeding for speed, and the routine use of steroids to cut fat and build muscle in many jurisdictions, was weakening the breed.

Then, a day before the Preakness, Richard Dutrow, Big Brown's trainer, admitted to the New York Daily News that every horse in his string gets an injection of Winstrol – a.k.a. the anabolic steroid stanozolol – on the 15th day of every month. Was this a huge shock to anyone closely involved in American racing? Of course not. Was it a shock to the general sporting public and many of the country's senior politicians, on the other hand? You bet.

Less than a fortnight later, a Congressional sub-committee has already written to senior racing administrators across the country to demand detailed information on breakdown rates and drug use, and if the current drug-related travails of baseball are any guide, the pattern in such matters is that one thing tends to lead to another.
For the record, I am probably backing Henrythenavigator in the Derby, and I'm (so far) agnostic about Congressional involvement in American racing. It could potentially force some sort of governing body on the sport, and that would be no bad thing, although it could easily become one without proper management. Here's hoping those involved take some sage advice before testifying.
Update: Prado has the mount on Casino Drive.