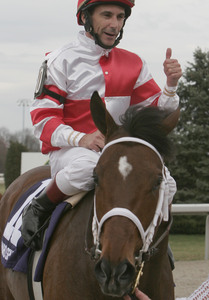 Hard Spun looked great in the Lane's End — clearly his love for Polytrack was as advertised. Trainer Larry Jones put the win in perspective:

I'm not looking forward to taking on any of them, with Great Hunter, Street Sense and Any Given Saturday all sitting there, and now maybe this horse, who doesn't really have a weak link in him. He may not be a superhorse, but he has every link in that chain strong." Jones said. "This could be a suicide for anybody going into the Derby. They may have to run so good to win this coming race that it could take the Derby out of them. That's my next concern. But just to be thinking we can compete with them is a good feeling."
It sounds like the Blue Grass is shaping up to be a fantastic race. For another interesting point about Hard Spun's victory in the Lane's End, check out the Courier-Journal:

The time for 11/8 miles over Polytrack was a solid 1:49.41. More important, Hard Spun covered the last eighth-mile in 12.68 seconds and the final three-eighths in 37.74. Finishing the final eighth under 13 seconds and the final three-eighths under 38 in a 11/8-mile prep has been one of the most reliable indicators of whether a horse can win the Derby.
It's certainly worth considering, but I still think it would be a lot of fun to see Hard Spun on the grass. Maybe later in the year…
There's also a nice feature article on jockey Mario Pino in the Baltimore Sun; it's great to see a locally-known rider get a shot at the big dance.
In Coolmore news, it looks as though George Washington is back in training and could potentially re-appear in time for a race at Royal Ascot. It also seems he did manage to get a few mares in foal (which, let's be honest, is generally more than you can say for War Emblem), so perhaps it's more of an immaturity issue than anything else.
But given the choice, would you rather breed to a Danehill with a reputation for odd behavior and a sketchy record at stud, or a Danehill who has been able to continue his racing and stud careers concurrently, like Gentleman's Deal? Now that's old school.