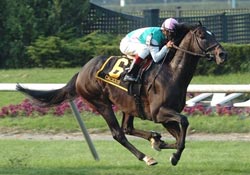 Cacique looked great in the Man O' War with some fine efforts from Go Deputy and Showing Up as well. Showing Up did stumble slightly at the start and looked a little rank early on, but I'd say this bodes well for his future against top-class turf horses. Coming in a few jumps behind Cacique (who will be heading to Banstead Manor for stud duty next year) is certainly no disappointment in my opinion. (Let's gratuitously mention Cacique's dam Hasili here again — what a phenomenal mare). It was also nice to see Miesque's Approval back in the Red Bank Stakes – it should be a good Mile as well.
Pine Island and Teammate's duel in the stretch of the Gazelle looks like a legitimate rivalry now; it's nice to see some life in the three-year-old filly division at long last this year.
Although I don't like to think too much about the 2-year-olds yet, I must admit I now have a sneaking admiration for Horse Greeley after his win in the Del Mar Futurity — although I suspect that has more to do with his name than anything else.
In European news, the Irish Champion Stakes was another fantastic effort against the boys for Ouija Board. Dylan Thomas just got there for the win — and the news that Dylan Thomas may end up in the Classic rather than facing Hurricane Run in the Turf is interesting. I'd be tempted to place Ouija Board there as well, although she is still pointing toward the Filly & Mare Turf. Shirocco also may head to the Classic rather than the Turf. There's a great article here on Ouija Board and her durability.
The other news from across the pond was not so positive – Dubai World Cup winner Electrocutionist died from an apparent heart attack, just days after a problem was detected. In other medical news, Lost in the Fog began his chemotherapy; UC Davis will be providing updates as they are available. Finally, Barbaro is 'starting to blossom' according to Gretchen Jackson, although she emphasizes her opinion is not a medical one. Still, it's nice to have a positive end to our medical round-up!

Tags:
Horse Racing, Cacique, Ouija Board, Dylan Thomas, Barbaro, Lost in the Fog